Biblical Scenes
Original All Hallows position: South side of chancel
Current Inchinnan Parish position: This window is unaccounted for
---
There is no photographic image of this Window as it is not accounted for.
Watercolour design drawing for stained glass window in chancel of Inchinnan Church.
Date 30/11/1903
Collection General Collection
Catalogue Number RED 56/5
Category Prints and Drawings
Copies DP 253133
Scope and Content Inchinnan Church, South side of chancel. 9'0" to floor. Watercolour drawing of window with two lights plus daqger/mouchette. Each light depicting biblical scenes. Bottom of left window contains inscription 'and their eyes were opened and they knew him'. Artist is Frank Mann.
Accession Number 1976/7
External Reference 9843/290
Permalink http://canmore.org.uk/collection/802830
---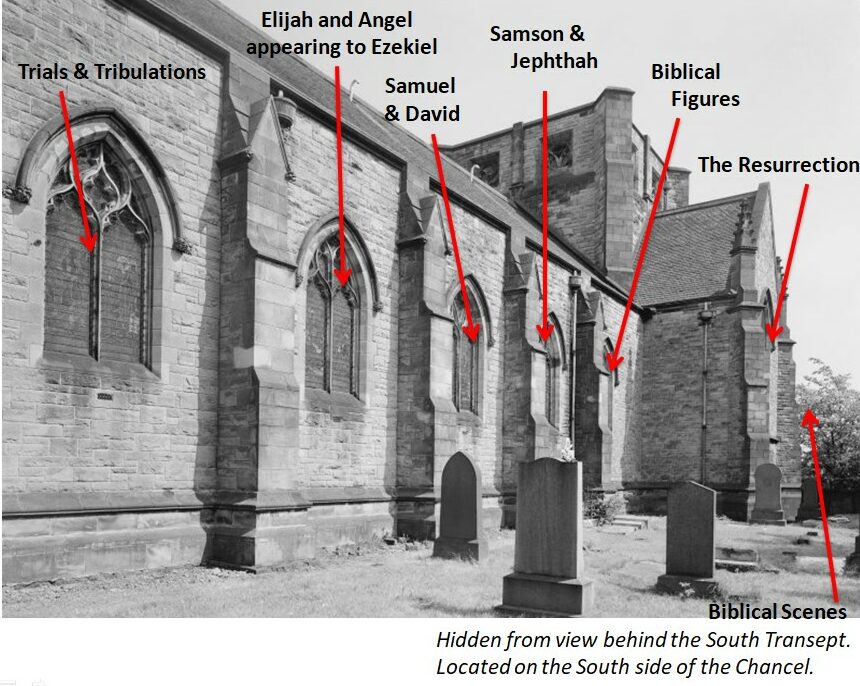 Position: All Hallows: South side
Historical Background
Date: 1903
Donor: Frederick Lobnitz and family
Dedicated to Henry Christian Lobnitz (d. 1896)
See Gravestone 42
Style: Two Light Window
Designer: Frank Mann
Maker: James Powell and Sons
Biblical Text: "and their eyes were opened and they knew him."
Luke 24:31
The left hand window depicts the Risen Lord and before him two figures are seen. One is seated looked up with an expression of awe and amazement and the other standing arms raised but facing downwards as if he cannot look up perhaps because the situation us too intense and overwhelming. The figure of Jesus shows calmness but sadness in the face and the right hand is raised in blessing. Around the figures arches the branches of old vines and at the top they are laden with grapes and Jesus is holding something, perhaps bread to signify the breaking of bread and the grapes to represent wine. Below the figures it is written and their eyes were opened and they knew him.
The window on the right shows the same two figures standing apparently deep in discussion. The background is the same but at the back there is part of the entrance to a building, perhaps where they broke bread together. There is no written text in this window.
It is so unfortunate that some of the windows of All Hallows Church, this being one, were lost at the time of the demolition of the church. Each window tells a story beautifully illustrated. The design and manufacture are those of master craftsmen and artists.
---
More stained glass windows
---