Adoration of the Risen Christ
Original All Hallows position: Chancel facing East
Current Inchinnan Parish position: Chancel
---
There is no Watercolour design drawing for this window.
---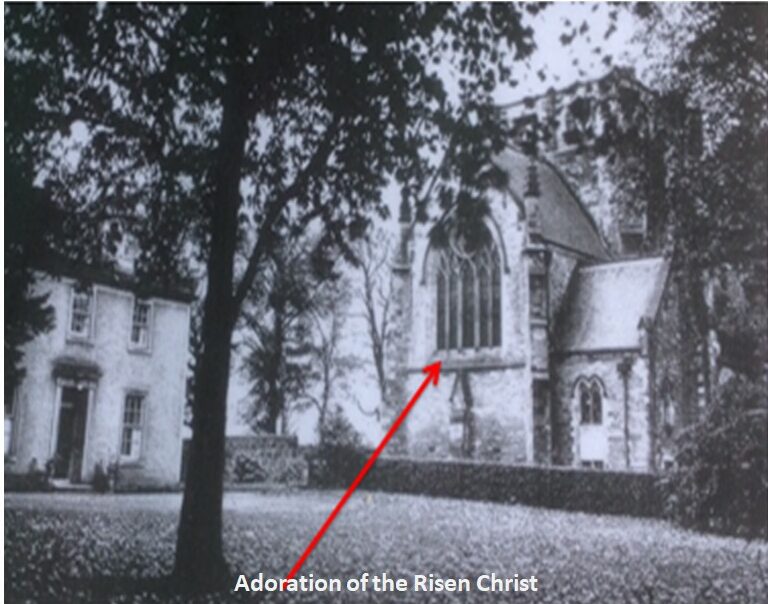 Position: All Hallows: East side
Historical Background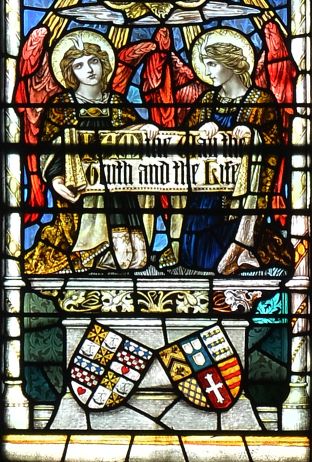 Coats of Arms of  Blythswood and Carrington families
(The 1st Lady Blythswood was a Carrington)
Donated by: Archibald Douglas Campbell, 1st Baron Blythswood
Date: Ordered 1902
Style: Five Light Window
Designer: Unknown
Maker: James Powell and Sons
Biblical Text: "I am the way, the truth and the life."
John 14:6
This was the major stained glass window in All Hallows Church and is now in Inchinnan Parish Church. It was one of five windows ordered for All Hallows Church in March 1901. The description of it in the order placed by Lord Blythswood is 5 lights and tracery Subject: Adoration of the Risen Christ, groups of angels in upper part of 4 side lights with 4 Archangels Saints Uriel, Michael, Gabriel, Raphael. The chancel of All Hallows Church was designed so that it faced east and the morning rising sun illuminated this glorious window.
The bible text for this window was John 14:6 "I am the way, the truth and the life" and this is shown in a banner held by two kneeling angels in the lower part of the centre light.
The figure depicting the risen Christ is shown attired in beautiful vestments and all round his body are small angel faces looking in towards him.
The four Archangels depicted are Saint Uriel; the Angel of wisdom, Saint Michael; the warrior Angel, Saint Gabriel; the messenger Angel and Saint Raphael; the healing Angel and these are the four Archangels in the Anglican tradition.
At the very foot of the centre light are the Coats of Arms of the families of Lord Blythswood and of his wife, Augusta Carrington. It was also specified in the order that there should be a dove in trefoil at the top of window surrounded by the emblems of the four Evangelists. In the four lights with the Archangels there are choirs of Angels singing and carrying musical instruments.
The window was made by the firm of James Powell and Sons (Whitefriars Glass) of London, the designer has not yet been traced. The estimated cost was £400 for the window and added to this would be costs for transport and installation.
This is a very beautiful window, the message clear and the images and colours superb, and to some extent personalised for the family of Lord Blythswood but James Powell and Sons did make very similar windows for other churches.
---
More stained glass windows
---