Moses and the Burning Bush
Original All Hallows position: North wall of the North Transept
Current Inchinnan Parish position: The lower part of the window in the Choir area.

---
There is no photographic image of "Moses and the Burning Bush", but part of it can be seen in the composite window in the Choir area of Inchinnan Parish Church.
The lower part is the full central panel of "Moses and the Burning Bush"
(The upper part is the upper part of "The Resurrection" from the South side of All Hallows.)
The glass in the side panels was not part of the original window.
There is no Watercolour design drawing for this window.
---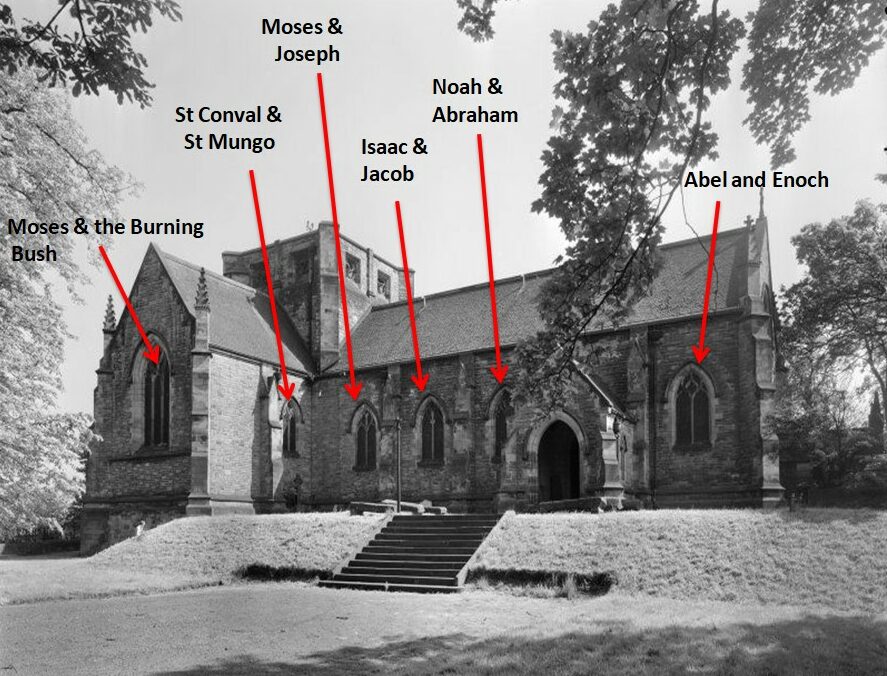 Position: All Hallows: North side
Historical Background
This is the surviving central panel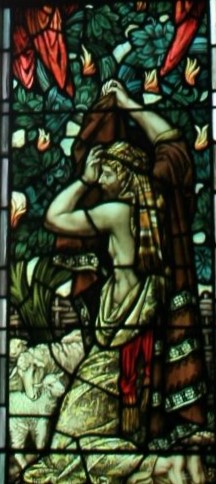 Donor: Archibald Campbell, 1st Baron Blythswood
Date: Ordered July 1902
Style: Three Light Window
Designer: Unknown
Maker: James Powell and Sons
Biblical Text:
"Now Moses was tending the flock of Jethro his father-in-law, the priest of Midian, and he led the flock to the far side of the wilderness and came to Horeb, the mountain of God. There the angel of the Lord appeared to him in flames of fire from within a bush. Moses saw that though the bush was on fire it did not burn up. So Moses thought, "I will go over and see this strange sight—why the bush does not burn up." When the Lord saw that he had gone over to look, God called to him from within the bush,"Moses! Moses!" And Moses said, "Here I am." "Do not come any closer," God said. "Take off your sandals, for the place where you are standing is holy ground." Then he said, "I am the God of your father, the God of Abraham, the God of Isaac and the God of Jacob." At this, Moses hid his face, because he was afraid to look at God."
Exodus 3:1-5
This window was ordered as part of an order for five windows which were in place at the opening of All Hallows Church on 6 June 1904.
The depiction of Moses and the Burning Bush is clear in the lower part of the composite window. The detail shows the sheep which were in Moses care and the bush burning yet not consumed. Moses is shown kneeling barefooted before the bush covering his face with his cloak as God had told him to do. So far the rest of this three light window has not been traced.
---
More stained glass windows
---