Saint Conval & Saint Mungo
Original All Hallows position: West wall of the North Transept
Current Inchinnan Parish position: the Session House
---
There is no Watercolour design drawing for this window.
---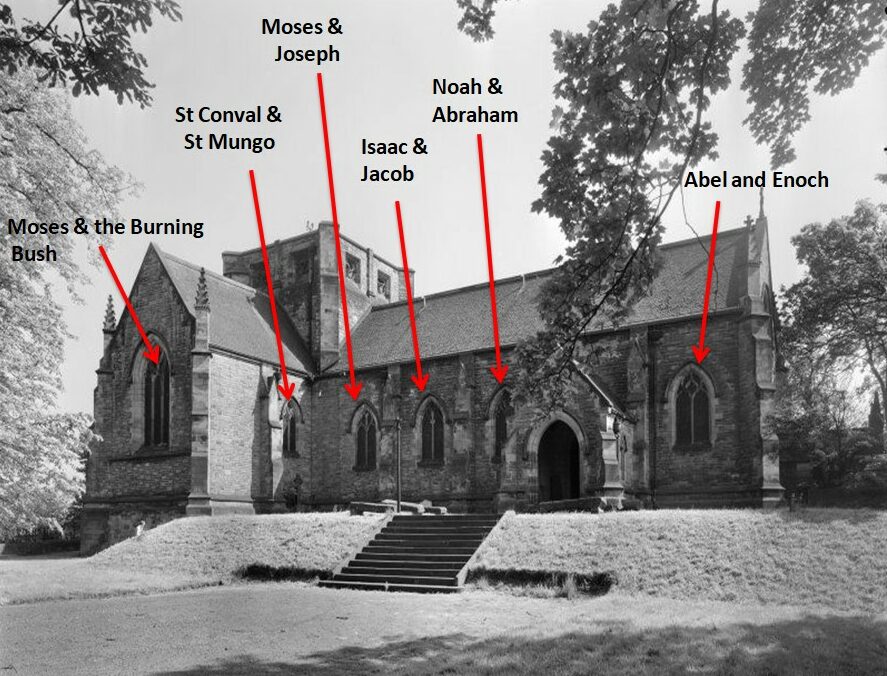 Position: All Hallows: North side
Historical Background

THIS WINDOW IS DEDICATED BY MAJOR-GEN  D B LOCKHART
TO THE MEMORY OF HIS FATHER AND MOTHER.
Major-Gen David Blair Lockhart (1829 – 1906)
Father: Laurence Lockhart of Milton-Lockhart (1795 – 1876)  Minister at Inchinnan
Mother: Louisa Blair (d. 1847)
See Gravestone 145
Date: 1903
Style: Two Light Window
Designer: Unknown
Maker: James Powell and Sons
Biblical Text:
" I had rather be a doorkeeper in the house of my God, than to dwell in the tents of wickedness." Psalm 84:10
This window was very special for All Hallows Church for it depicts the two most important saints in the rise of Christianity in this area. St Conval, the legend says, rode from Ireland over the sea on a stone and landed near the All Hallows Church site where he set up his church. He is shown in the widow standing on the stone and holding the church at Inchinnan safely in his hands. Once again the details here are fantastic. From the facial expression of care, the reddish hair raised in the wind, the vestments blowing out and the lovely little church building held securely by his strong hands the whole image suggest positivity combined with care and love.
Saint Mungo is shown as an older man with an expression of wisdom. He holds his crozier in one hand and has the Bishops Mitre on his head. In his other hand he holds a fish leading us to think of him establishing his church on the banks of the Molendinar Burn where Glasgow Cathedral now stands. His vestments are richly decorated giving the impression of a long service in his role in the Christian church. The detail shown in this figure is amazing from the individual hairs in his beard to the eyes raised toward heaven.
This window was donated by Major General D B Lockhart in memory of this parents. His father was Rev Laurence Lockhart (1795-1860) who was the minister of the church at Inchinnan from 1822 until 1860. Laurence Lockhart's father was the Rev John Lockhart who was minister at Blackfriars Church on High Street Glasgow at the time when the University was sited beside it. They were a well off and well known family and moved in academic circles. Laurence's brother became a lawyer and married the daughter of Sir Walter Scott. Laurence seems to have been a lively and very active man attending many of the academic and cultural meetings in Glasgow where he owned property. He was a force in the local community and beyond and worked hard for the congregation and community at Inchinnan.
---
More stained glass windows
---