Moses & Joseph
Original All Hallows position: 1st from East on the North side
Current Inchinnan Parish position: West wall - 1st from left
---
Watercolour design drawing for two stained glass windows. Inchinnan Church.

Date 1919
Collection General Collection
Catalogue Number RED 56/4
Category Prints and Drawings
Copies DP 253132
Scope and Content Inchinnan 1st from East North Side Windows depicting Joseph and unidentified male figure (Moses?)
Accession Number 1976/7
External Reference Order number 4793/240
Permalink http://canmore.org.uk/collection/802829
---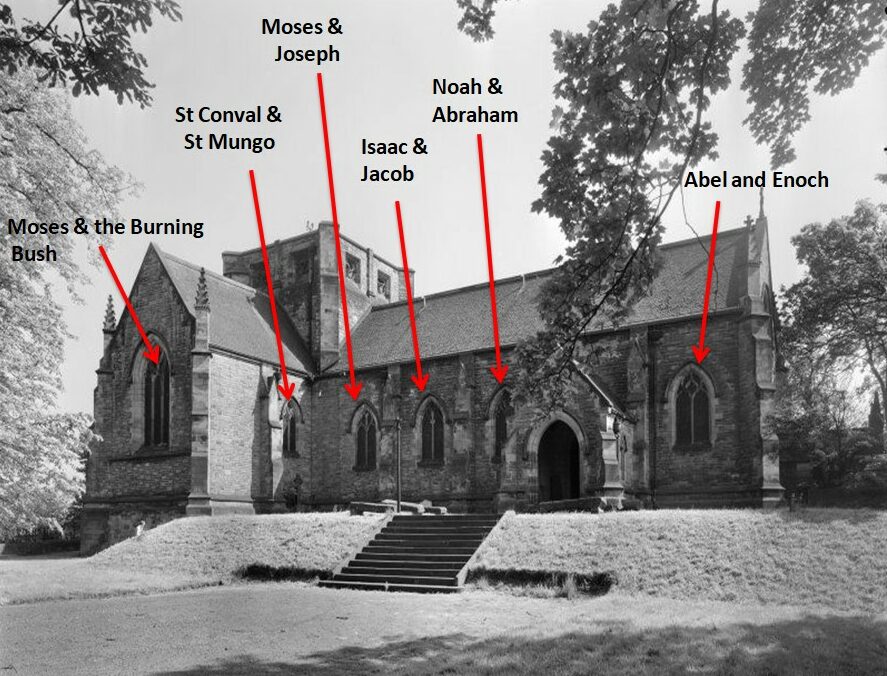 Position: All Hallows: North side
Historical Background

TO THE GLORY OF GOD AND IN MEMORY OF MAJOR GENERAL SIR
BARRINGTON BULKELEY DOUGLAS CAMPBELL K.C.B.  C.V.O. 3RD BARON
BLYTHSWOOD.  ERECTED BY HIS BROTHER OFFICERS OF THE SCOTS GUARDS
Date: 1919
Style: Two Light Window
Designer: Unknown
Maker: James Powell and Sons
Moses is depicted on the left hand window with the text " By Faith they passed through the Red Sea as by Dry Land." The actual Biblical text is;
"By Faith the people passed through the Red Sea as on dry land." Hebrews 11:29
The figure of Moses is seen with high land behind him and he is holding a scroll in one hand while the other hand points upwards. His expression is thoughtful and hopeful. Behind him are gathered the people who he will lead over the Red Sea and they are walking over a dried sea bed with rocks and some pools of water and to each side are massive waves leaving the clear passage between them for the people to cross the sea.
Joseph is depicted on the right hand window with the text "By Faith Joseph when he died made mention of the Departing of the Children of Israel." The actual Biblical text is;
"By Faith Joseph when his end was near spoke about the exodus of the Israelites from Egypt." Hebrews 11:22
Joseph, who had risen to be a very important man in Egypt, is shown in richly embroidered vestments, and looks very thoughtful. He asked that when he died his bones be taken from Egypt to the promised land which he believed the children of Israel would reach. Moses accepted this challenge and carried the bones of Joseph on the journey.
This window was donated in memory of Major General Sir Barrington Bulkeley Douglas Campbell (1845-1913) who became the 3rd Baron Blythswood in 1916 on the death of his brother Sholto. He joined the Lanarkshire Yeomanry in 1867 but later served in the Scots Guards. He served in the army until 1903 when he became Governor of Guernsey, a post he held until 1908. In 1902 his London address was 13 Manchester Square and this is the address on the order for this stained glass window.
Barrington changed his surname twice, first on inheriting the estate of Douglas Support which required the owner to have the surname Douglas and then later on inheriting the Blythswood Estate and title he had to change his surname to Campbell.
---
More stained glass windows
---