Samuel & David
Original All Hallows position: 3rd from East on the South side
Current Inchinnan Parish position: West wall - 1st from right
---
Design for stained glass window for nave of Inchinnan Church.
Date 10/5/1905
Collection General Collection
Catalogue Number RED 56/7
Category Prints and Drawings
Copies DP 253135
Scope and Content Inchinnan Church, 3rd from East S.side of nave. Church located in town of Inchinnan. Watercolour depictions of two stained glass windows contain biblical figures. Left light is of Samuel and right is of David. Artist is Frank Mann.
Accession Number 1976/7
External Reference 448/140
Permalink http://canmore.org.uk/collection/802834
---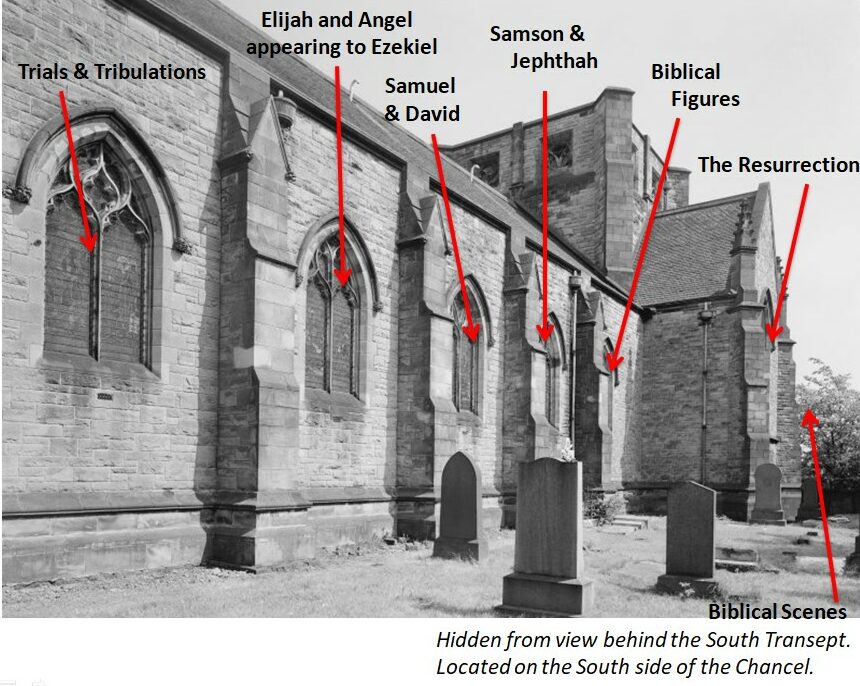 Position: All Hallows: South side
Historical Background

TO THE GLORY  OF GOD.        THE GIFT OF WILLIAM CRAIG IN MEMORY OF HIS PARENTS
Date: 10 May 1905
Style: Two Light Window
Designer: Frank Mann
Maker: James Powell and Sons
Biblical Text:
"David also, and Samuel, and of the prophets: Who by faith subdued kingdoms, wrought righteousness, Obtained promises, stopped the mouths of lions, quenched the violence of fire, escaped the edge of the sword, out of weakness were made strong, waxed valiant in fight, turned to flight the armies of aliens." Hebrews 11:32-40
This window continues on the theme of faith using Samuel and David as examples. Samuel who "By faith wrought righteousness" and David who "By faith turned to flight the armies of aliens" these statements being inscribed on the window below the figures. Samuel is shown looking upward his expression and hands giving the sense of questioning and listening and David is shown with a crown on his head and playing a musical instrument, a harp and in 2 Chronicles 9:11 it is recorded that the Israelites invented several types of harp and other stringed instruments.
As in all the windows the details of the images are amazing. The faces are expressive and beautiful, the clothing is detailed and beautifully coloured and one of the fascinating features is the beauty of the hands.
This window was donated by William Craig in memory of his parents. As far as can be ascertained the Craig family were a local working family and it is amazing that William could fund this window. His father had been the beadle of the church and must have had a deep love for it when his son was inspired to install a window, not something working class families would see as something they could do.
---
More stained glass windows
---