Biblical Figures (Barak & Gideon)
Original All Hallows position: 1st from East on the South side
Current Inchinnan Parish position: This window is unaccounted for
---
There is no photographic image of this Window as it is not accounted for.
Design for stained glass window of Inchinnan Church.
Date 24/5/1905
Collection General Collection
Catalogue Number RED 56/6
Category Prints and Drawings
Copies DP 253134
Scope and Content Inchinnan Church, 1st from E.S. side Watercolour design drawing for two stained glass lights depicting biblical figures. Dagger/mouchette contains faces of angels. Left light contains inscription at bottom beginning with 'by faith barak'. Right window is unfinished at top. Artist Frank Mann.
Accession Number 1976/7
External Reference 463/448
Permalinkhttp://canmore.org.uk/collection/802833
---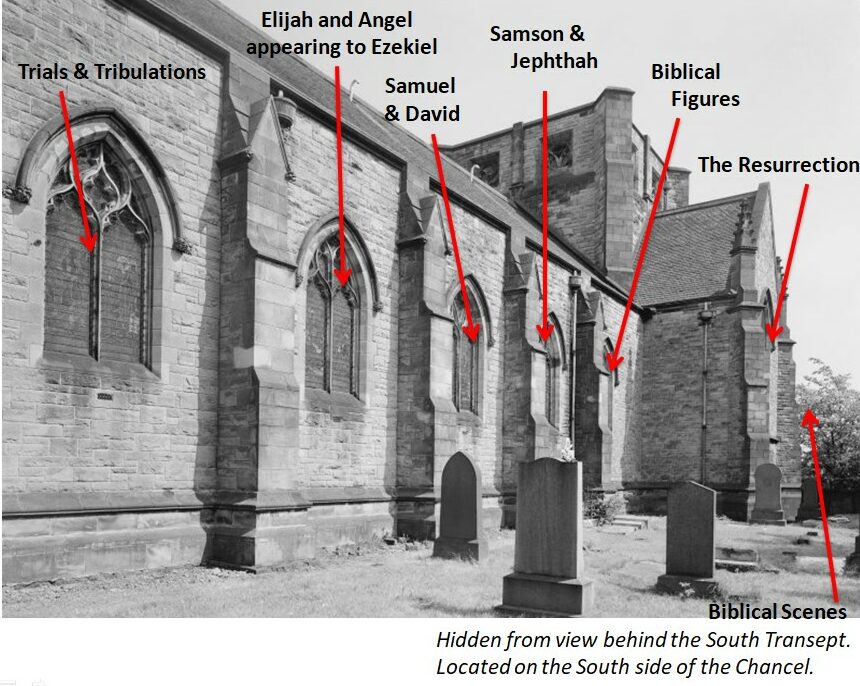 Position: All Hallows: South side
Historical Background
Dedicated to Alexander Cunningham of Craigend (d. 1866)
Donated by: Cunninghame of Craigend
Date: 24 May 1905
Style: Two Light Window
Designer: Frank Mann
Maker: James Powell and Sons
Biblical Text:
"And what shall I say? I do not have time to tell about Gideon, Barak, Samson and Jephthah, about David, Samuel and the prophets who through faith conquered kingdoms, and administered justice, and gained what was promised: who shut the mouths of lions, quenched the fury of flames, and escaped the edge of the sword: whose weakness was turned to strength: and who became powerful in battle and routed foreign enemies. Women received back their dead, raised to life again."
Hebrews: 11: 32-34
At the opening of All Hallows Church Lord Blythswood, who had the church built, suggested that others might wish to donate stained glass windows for the nave. He and his family had already had the chancel, rose and transept windows installed. At that time the nave windows were plain leaded glass. This window was not transferred to St Conval's Church but we have the artist's watercolour of the design. The artist's name is given as Frank Mann and from the detail of the figures and the overall window it seems likely that he was responsible for many, if not all of the All Hallows Church stained glass windows. The design is partially unfinished but the detail shows the figures and the beauty and expression on their faces. The faint writing at the foot of each light indentifies Barak and Gideon.
The woman portrayed with Barak could be Deborah as this is story of the Hebrews' defeat of the Canaanites led by Sisera, under the prophetic leadership of Deborah and the military leadership of Barak.
In Judges:4 it states "Now Deborah, a prophet, the wife of Lappidoth, was leading Israel at that time. Barak said to her, "If you go with me, I will go; but if you don't go with me, I won't go." "
Following this is the story of the victory at Mount Tabor.
40 years after the victory won by Barak and Deborah the Israelites were again threatened by other peoples and God chose Gideon, a young man from the tribe of Manasseh, to free the people of Israel and to condemn their idolatry. The window shows Gideon in pose of thoughtfulness and strength with his warrior's helmet lying beside him on the ground ready to go to war. Gideon freed the Israelites and they lived in peace for forty more years of his life.
This window was donated by Cunninghame of Craigend, a very wealthy man and neighbour of Lord Blythswood. His home at Houston was called Craigends House and was a magnificent large mansion. which had been rebuilt in 1857 to the design of David Bryce, the family having owned the estate from 1479. John Charles Cunninghame (1851-1917) had inherited his father's iron and steel works when he was 15 years old. He also owned estates at Wigtonshire, where he had dairy herds, and Foyers, where he bred sheep. Cunninghame died in 1917 and is buried in the cemetery at Kilbarchan.
---
More stained glass windows
---