Noah & Abraham
Original All Hallows position: 2nd from West on the North side
Current Inchinnan Parish position: West wall - 2nd from left
---
Watercolour design drawing for two stained glass windows. Inchinnan Church
Date 27/4/1915
Collection General Collection
Catalogue Number RED 56/2
Category Prints and Drawings
Copies DP 253130
Scope and Content Inchinnan Church 2nd from West on North side Windows depicting Noah and Abraham
Accession Number 1976/7
External Reference Order number 3945/159
Permalink http://canmore.org.uk/collection/802822
---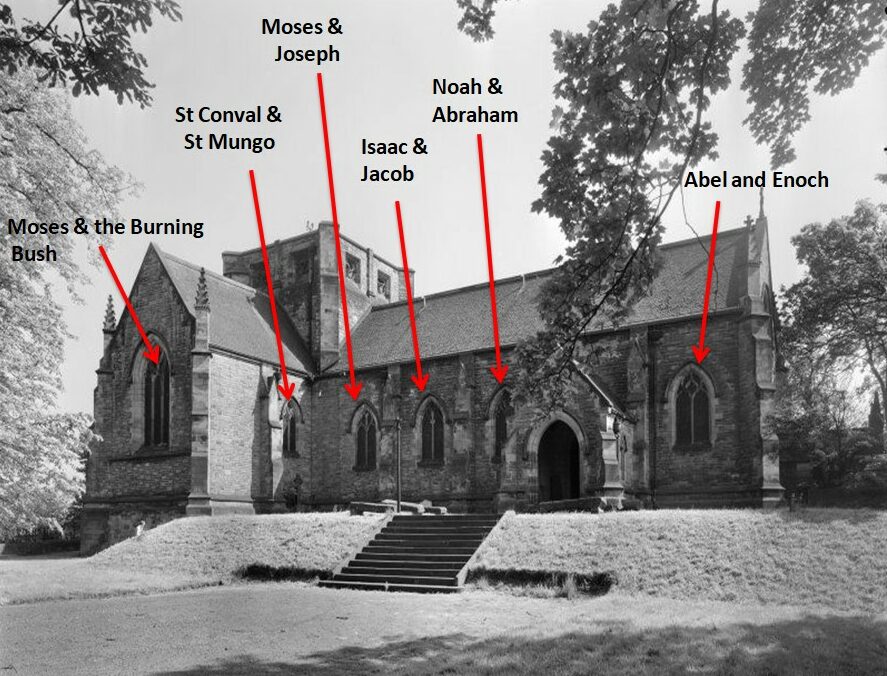 Position: All Hallows: North side
Historical Background
TO THE GLORY OF GOD AND IN AFFECTIONATE REMEMBRANCE OF
WALTER DOUGLAS CAMPBELL.  THIS WINDOW WAS GIVEN
BY HIS SISTER-IN-LAW, AUGUSTA BLYTHSWOOD
Date: 27 April 1915
Style: Two Light Window
Designer: Unknown
Maker: James Powell and Sons
Biblical Text:
"By faith Noah, when warned about things not yet seen, in holy fear, built an ark to save his family." Hebrews 11:7
"By faith Abraham, when God tested him, offered Isaac as a sacrifice."
Hebrews 11:17
Every detail in this window is fascinating. Noah stands with a look of determination combined with care on his face and holding in his arms the most beautiful little wooden ark. The blue of his clothing immediately suggests water and the whole picture instead of radiating threat and worry there is a feeling of calm. The faces of the figures are exquisite and really express feelings. As in all of these images the hands indicate strength and on close inspection even the finger nails are detailed beautifully.
Genesis: 22 tells the story of God testing the strength of Abraham's faith. "Then God said, Take your son, your only son, whom you love, Isaac, and go to the region of Moriah. Sacrifice him there as a burnt offering on a mountain I will show you." When Abraham has shown that he will do as God commanded, God tells him to stop and he sacrifices a ram instead. In the window Abraham looks up to God, knife in his hands and the fire in his other hand to light the wood for the burnt offering. Just at his feet lies the ram which will be sacrificed. His face shows the depth of the battle to please his God and the hope for some other solution to prevent the sacrifice of his son. The right hand shows such strength as he grips the knife ready to obey his God. His importance is shown in his clothing. The foot of his robe is richly embroidered and his red cloak is covered with a pattern. These indicate great importance and wealth.
This window was given by Augusta Douglas Campbell, the wife of Archibald Douglas Campbell the 1st Baron Blythswood, in memory of Walter (1850-1914), a younger brother of Archibald. Walter was the youngest son of the family and became an amateur architect but only designed a few buildings. He built a house on the shores of Loch Awe and lived there with his mother. Then he designed and built the most stunning church there – St Conan's Church.
---
More stained glass windows
---