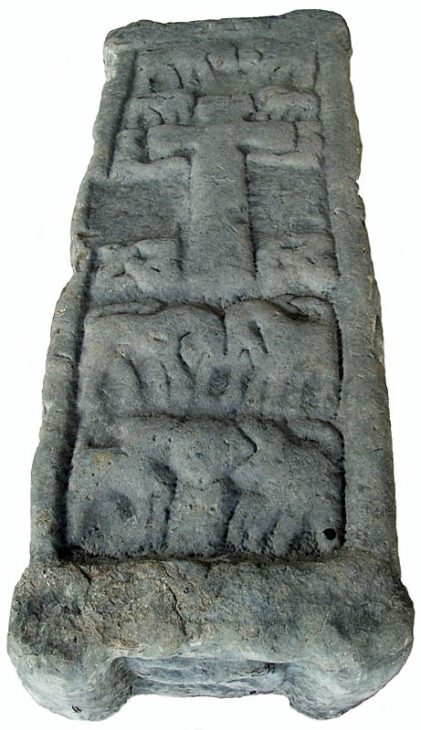 Inchinnan Stone number 3
Recumbent cross-slab or shrine cover
Measurements: Length 1.60m, Width 0.58m, Depth 0.25m
Stone type: sandstone
Place of discovery: NS 4904 6803
This slab is carved in relief on the upper face and on all four narrow faces.  The underside is plain. There is a semi-circular projection at each corner and broad flatband mouldings along the edges which are plain except for the moulding at the head, which is carved with two twisted cords, and that at the foot, which bears a coiled serpent. There are traces of carving on the tops of the projections. The upper face is carved with a central relief cross with rounded armpits, with a moulding below the arms and a wide plain band below the moulding. A single twist separates the ends of the arms from the border, and above the side-arms on either side an animal faces the cross. Two larger animals confront one another above the cross. Below the central plain band there is an interlace knot flanking the base of the cross-shaft. Below the shaft another pair of large confronted animals, and below that another pair with gaping jaws on either side of a central figure.
The right side has a single long panel with animals progressing to the  head-end of the monument, with a double knot at the left-hand end. The five quadrupeds are set close together, one with its head turned to look back and the central animal facing outwards. The other side contains six animals moving towards the head, with two facing back and one facing outwards. There is a long knot on the wider end and a single twist  at the foot.
Date: late ninth to eleventh century.