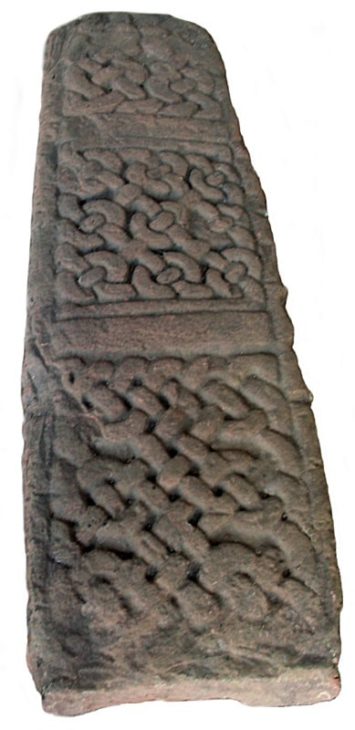 Inchinnan Stone number 2
Cross-shaft fragment
Measurements: Height 1.52m, Width 0.51m at the base
tapering upwards to 0.38m, Depth 0.18m
Stone type: sandstone
Place of discovery: NS 4904 6803
This portion of a cross shaft is broken at the point where it narrows into the (missing) cross-head, and it lacks its base.
This almost rectangular fragment was carved in relief on all four main faces, though only the top and side faces survive. It tapers slightly towards the top, where there are shoulders sloping towards the cross-head. Each face has a cable-moulded border and is divided into three panels of heavy interlace patterns by broad plain bands.
It seems likely that this stone has been re-used as a recumbent grave slab, perhaps in the seventeenth century.
Date: late ninth to eleventh century.