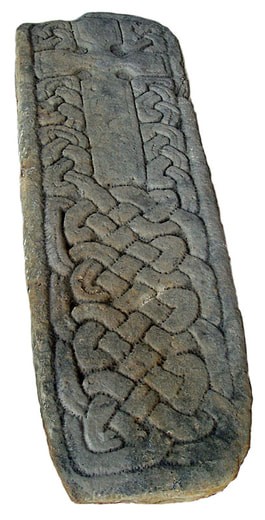 Inchinnan  Stone number 1
Recumbent slab
Measurements: Length 1.52m, Width 0.52m at the head tapering to 0.39m, Depth 0.22m.
Stone type: sandstone
Place of discovery: NS 4904 6803
A recumbent slab with a long-shafted cross surrounded by interlace.
Similar to several of the grave slabs at Govan.
Some edge damage and the top left corner missing.
This is a slightly tapered rectangular slab, carved in relief only on the upper surface. Within a plain flatband border there is in the upper part of the slab a plain outline cross with an inner incised line and sunken armpits. The cross-arms extend out to the frame, and the spaces between the upper arms and on either side of the shaft are filled with heavy double-beaded interlace.
Date: late ninth to eleventh century.