Gravestone Inscription
HERE ARE INTERRED THE REMAINS
OF
ARCHIBALD CAMPBELL, ESQUIRE OF BLYTHSWOOD.
LORD LIEUTENANT AND CONVENOR
OF THE COUNTY OF RENFREW.
WHO DIED IN LONDON
ON THE 13TH OF JUNE 1838
AGED 75.
---
Additional information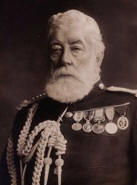 Archibald Campbell, the 1st Baron Blythswood (1835-1908) is also interred in this mausoleum.
Fought in the Crimean War
Rose to the rank of Lieutenant-Colonel .
MP for West Renfrewshire
Lord Lieutenant of Renfrewshire
Grand Master of the Grand Lodge of Scotland.
Aide-de-camp to Queen Victoria.
Notable amateur scientist (cathode rays, X-rays, radioactivity).
He also designed a speed indicator which was fitted to ships of the Royal Navy and carried out studies into the efficiency of aeriel propellors some years before the Wright Brothers' first powered flight in 1903.
Archibald Campbell died on 8th July 1908, aged 73.